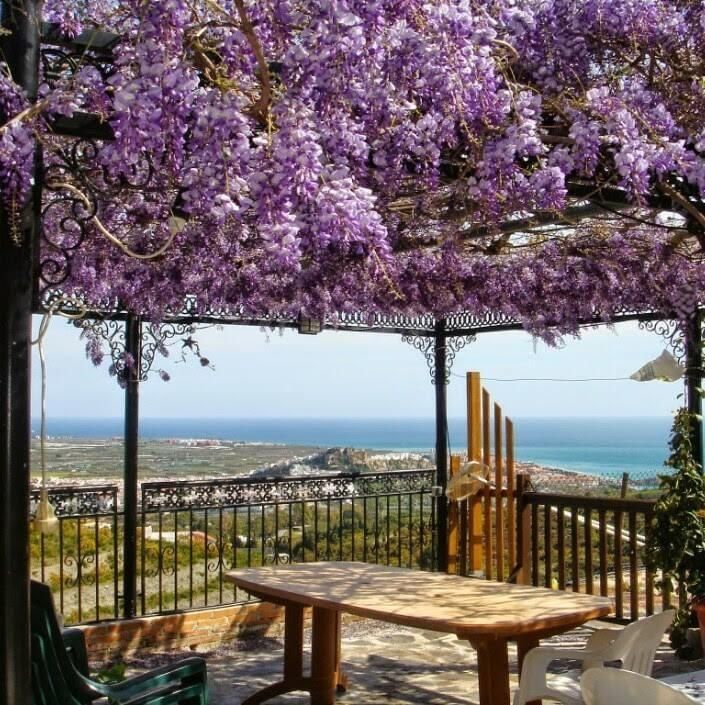 Villa in Salobreña, for sale
Reference number: 1975
Constructed area 183 m²
Plot size 11000 m²
Bedrooms 4
Bathrooms 3
CHARMING COUNTRY HOUSE FOR SALE IN SALOBRENA
In Salobreña, a lovely white town on the coast of Granada, characterized by it's beautiful
Andalucian streets, with a coastal location and close to the emblematic city of Granada, and the Sierra
Nevada, we can find this magnificent property. A special place also close Malaga and Granada airport
(both only an hour away).

This country house is located on the outskirts of Salobreña, in an area called Matagallares. The
distance to Salobreña is only 10 minutes by car, and about 20 minutes walk.

The property is situated on a plot of 12,474 m2. We access the house by going down a private road
through a gate with a beautiful bougainvillea, once at the front door we find a large space to park
various cars. As soon as we enter the premises we find an pretty terrace partially covered by a pergola
with a Japanese wisteria growing over it, which is spectacular when it is in bloom. A perfect place to
sit under its purple flowers and contemplate the famous Moorish castle of Salobreña. The house also has
a private pool surrounded by a lawn, ideal to cool off on hot summer day, and relax and enjoy the
natural environment that surrounds this house.

The house, all distributed on one floor, has a large living room and kitchen recently renovated with
windows that overlook the pool. To the left of the living room we find an adjoining apartment with its
own living room, a WC, a double bedroom with an on suite bathroom with a shower and a dressing room, all
recently renovated as well. All this wing is decorated with a modern and minimalisita style. On the
right side of the house we find another small living room, three bedrooms and a bathroom with bathtub,
this wing is decorated with a rustic style.

The property also has 300 liters of hot water from the solar panels for the house and a deposit of 1000
liters more, perfect for the irrigation of the land. The land has a great variety of tropical fruit
trees such as medlars, avocados, mangoes, lychees, carambolas, cherimoyos, macadamios, guayabos and
orange trees. The sale of the fruit produced by these trees allowa to cover the costs of everything that
the land needs to be maintained but also generates enough to cover the expenses of the house
consumption.

The house has:
- 2 Kitchens
- 3 living room areas
- 4 bedrooms
- 2 bathrooms
- 1 outdoor bathroom with shower(ideal for the pool area and bqq area)
- 1 WC
- Area for a wine cellar or for storage room
- Covered parking area for 3 cars
- Open parking area for various cars

For more information or to make an appointment do not hesitate to contact the team of Pargo villas 34
958610961 or inmobiliaria@pargovillas.com
Details
Type: Villa
For sale/for rent: For sale
Province: Granada
Town: Salobreña
Bedrooms: 4
Bathrooms: 3
Constructed area: 183 m²
Plot size: 11000 m²
Type of property: Re-sale
Energy certification (consumo):
Extras
Kitchen: American
Orientation: Southeast
CHARMING COUNTRY HOUSE FOR SALE IN SALOBRENA
In Salobreña, a lovely white town on the coast of Granada, characterized by it's beautiful
Andalucian streets, with a coastal location and close to the emblematic city of Granada, and the Sierra
Nevada, we can find this magnificent property. A special place also close Malaga and Granada airport
(both only an hour away).

This country house is located on the outskirts of Salobreña, in an area called Matagallares. The
distance to Salobreña is only 10 minutes by car, and about 20 minutes walk.

The property is situated on a plot of 12,474 m2. We access the house by going down a private road
through a gate with a beautiful bougainvillea, once at the front door we find a large space to park
various cars. As soon as we enter the premises we find an pretty terrace partially covered by a pergola
with a Japanese wisteria growing over it, which is spectacular when it is in bloom. A perfect place to
sit under its purple flowers and contemplate the famous Moorish castle of Salobreña. The house also has
a private pool surrounded by a lawn, ideal to cool off on hot summer day, and relax and enjoy the
natural environment that surrounds this house.

The house, all distributed on one floor, has a large living room and kitchen recently renovated with
windows that overlook the pool. To the left of the living room we find an adjoining apartment with its
own living room, a WC, a double bedroom with an on suite bathroom with a shower and a dressing room, all
recently renovated as well. All this wing is decorated with a modern and minimalisita style. On the
right side of the house we find another small living room, three bedrooms and a bathroom with bathtub,
this wing is decorated with a rustic style.

The property also has 300 liters of hot water from the solar panels for the house and a deposit of 1000
liters more, perfect for the irrigation of the land. The land has a great variety of tropical fruit
trees such as medlars, avocados, mangoes, lychees, carambolas, cherimoyos, macadamios, guayabos and
orange trees. The sale of the fruit produced by these trees allowa to cover the costs of everything that
the land needs to be maintained but also generates enough to cover the expenses of the house
consumption.

The house has:
- 2 Kitchens
- 3 living room areas
- 4 bedrooms
- 2 bathrooms
- 1 outdoor bathroom with shower(ideal for the pool area and bqq area)
- 1 WC
- Area for a wine cellar or for storage room
- Covered parking area for 3 cars
- Open parking area for various cars

For more information or to make an appointment do not hesitate to contact the team of Pargo villas 34
958610961 or inmobiliaria@pargovillas.com
Info Request
For more information about this property, complete the details below.
You can also call:
+34 958610961
more
Similar properties

Pargo, SL
Urb. Costa Aguilera, Ctra N-340, Km 323,7
18680 Salobreña

(Granada)