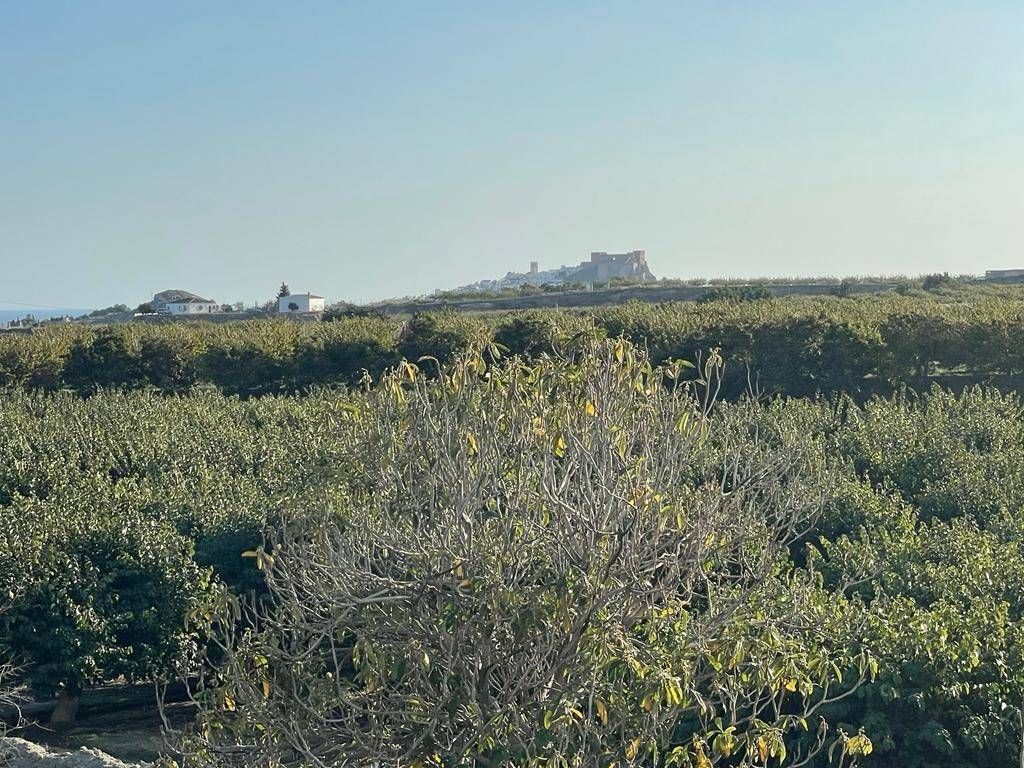 Villa in Lobres, for sale
Reference number: 5040
Constructed area 200 m²
Plot size 5700 m²
Bedrooms 5
Bathrooms 2
OPPORTUNITY FOR A HOUSE WITH GREAT POTENTIAL IN LOBRES
Great country house opportunity with many possibilities!!

In Salobreña, a beautiful town painted white on the coast of Granada, characterized by the beauty of its
streets, its Andalusian charm and its magnificent location, since its at a fantastic coastal location,
in addition its proximity to the emblematic city of Granada, and to Sierra Nevada, where its famous ski
resort is located; we found this magnificent property. Salobreña is located near three international
airports such as Malaga, Granada and Almeria.

This house will be ideal for someone who wants to live in the countryside area, but at the same time
close to the village, less than 5 minutes by car or 15-20 minutes walk.

We access the property by a large gate where there is space to leave 2 cars. Here we find a nice porch
with a barbecue and a garden area with a nispero tree, a fig tree and an orange tree. In this area we
could make an orchard or even put a large prefabricated pool. We also have another gate to access the
land where the plantation of 120 custard apple trees are and 4 avocado trees are located.

The house itself is distributed as follows: We access the house on the ground floor in which we find two
adjoining rooms, a living room with a fireplace, a bathroom with shower and a storage room. On the upper
floor we find an open kitchen, with pantry, a dining room with a fireplace, a bathroom with a shower and
three bedrooms (one of the bedrooms with a walk-in-wardrobe and another with access to the roof-terrace,
this last bedroom could be used as a second living room).

The 5 rooms of the house give a lot of possibilities, they can be used as bedrooms, one of them as a
second living room, one of them as an office...

From the roof-.terrace we have beautiful views of the mountain, the sea and the Arab castle of
Salobreña.

Other details of the house: Some rooms have parquet flooring, central heating, septic tank in front of
the house, disqualifier on the roof, purifier under the kitchen sink.

It also has a small plot with a storage building where the owner had his horse.

For more information do not hesitate to contact the team of Pargo villas 34 958610961 or
inmo@pargovillas.com
Details
Type: Villa
For sale/for rent: For sale
Province: Granada
Town: Lobres
Bedrooms: 5
Bathrooms: 2
Constructed area: 200 m²
Plot size: 5700 m²
Type of property: Re-sale
Energy certification (consumo):
Extras
Kitchen: American
Garage: Yes
Storage room: Yes
Fireplace: Yes
OPPORTUNITY FOR A HOUSE WITH GREAT POTENTIAL IN LOBRES
Great country house opportunity with many possibilities!!

In Salobreña, a beautiful town painted white on the coast of Granada, characterized by the beauty of its
streets, its Andalusian charm and its magnificent location, since its at a fantastic coastal location,
in addition its proximity to the emblematic city of Granada, and to Sierra Nevada, where its famous ski
resort is located; we found this magnificent property. Salobreña is located near three international
airports such as Malaga, Granada and Almeria.

This house will be ideal for someone who wants to live in the countryside area, but at the same time
close to the village, less than 5 minutes by car or 15-20 minutes walk.

We access the property by a large gate where there is space to leave 2 cars. Here we find a nice porch
with a barbecue and a garden area with a nispero tree, a fig tree and an orange tree. In this area we
could make an orchard or even put a large prefabricated pool. We also have another gate to access the
land where the plantation of 120 custard apple trees are and 4 avocado trees are located.

The house itself is distributed as follows: We access the house on the ground floor in which we find two
adjoining rooms, a living room with a fireplace, a bathroom with shower and a storage room. On the upper
floor we find an open kitchen, with pantry, a dining room with a fireplace, a bathroom with a shower and
three bedrooms (one of the bedrooms with a walk-in-wardrobe and another with access to the roof-terrace,
this last bedroom could be used as a second living room).

The 5 rooms of the house give a lot of possibilities, they can be used as bedrooms, one of them as a
second living room, one of them as an office...

From the roof-.terrace we have beautiful views of the mountain, the sea and the Arab castle of
Salobreña.

Other details of the house: Some rooms have parquet flooring, central heating, septic tank in front of
the house, disqualifier on the roof, purifier under the kitchen sink.

It also has a small plot with a storage building where the owner had his horse.

For more information do not hesitate to contact the team of Pargo villas 34 958610961 or
inmo@pargovillas.com
Info Request
For more information about this property, complete the details below.
You can also call:
+34 958610961
more

Pargo, SL
Urb. Costa Aguilera, Ctra N-340, Km 323,7
18680 Salobreña

(Granada)