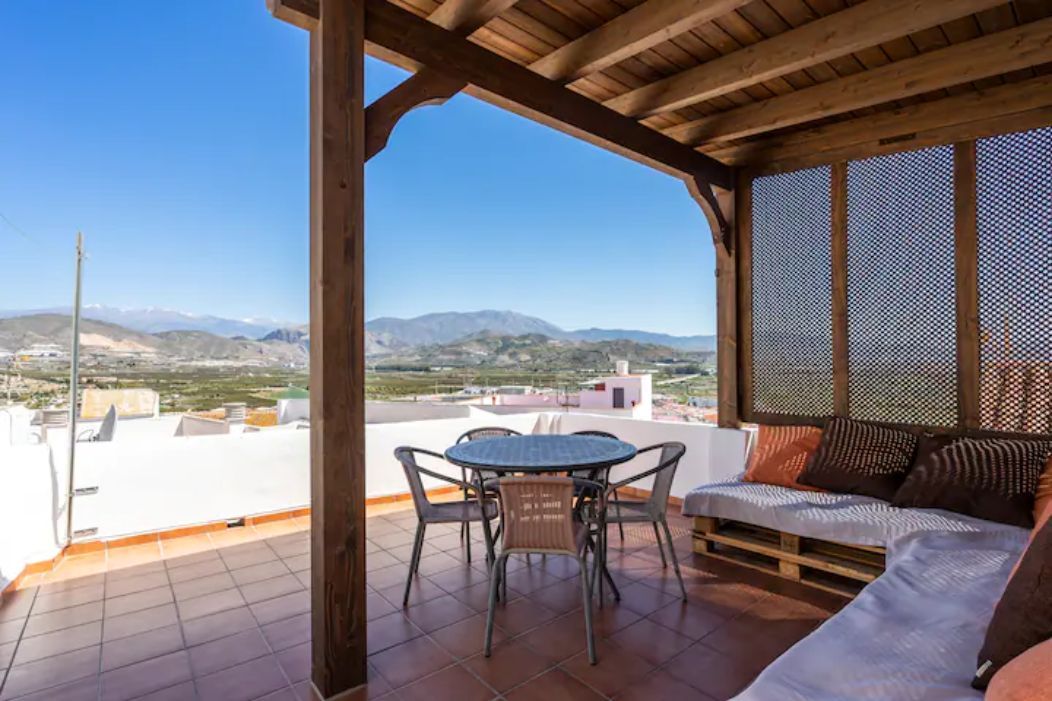 Town House in Salobreña, for rent
Reference number: 5059-1
Constructed area 245 m²
Bedrooms 3
Bathrooms 2
Description
Fabulous Andalusian house for long term rental!

This property is located in Salobrena, a picturesque village with a spectacular location, as it is on
the coast of Granada, with beaches and at the same time close to its famous ski resort of Sierra Nevada.

The house is situated in the upper part of the Old Town of Salobrena, so you will enjoy amazing views
and be able to get lost the romantic streets of this emblematic old town, with its Andalusian character,
and its Moorish influence.

The property has 3 floors. It is distributed as follows:

We access the property through a beautiful blue wooden door restored by hand by a local carpenter.
Entering the house we find a small entrance hall. Next we find a beautiful open kitchen decorated with
emerald green tiles. On the left hand side there is a spacious and luminous living room. At the back of
the house there is a newly renovated bathroom and a second living room with a fireplace. This second
living room could be used as a guest room. This living room also has an independent access from the
street.

To go up to the first floor we access by an original staircase from the 19th century. On the left hand
side there are two bedrooms. One is a single bedroom and the other one is a double bedroom, very
spacious and with a manorial style. Both bedrooms have julliet balconies and their windows have been
restored by hand by a local carpenter. Next we have an area currently used as an office, the second
bathroom with a bathtub, a small patio and another double bedroom, all with lots of detail and light.

On the third floor is the terrace with a chill-out area and a pergola, with views of the Sierra Neva,
the Salobrena crops and the mediterrean sea.

Therefore the house has:
- 1 open kitchen
- 2 lounges (one with a fireplace which could potentially be another bedroom)
- 3 bedrooms
- 1 terrace
- 2 bathrooms (one with bath and one with shower)
- 1 patio

Other qualities:

Sea and mountain views.

The whole house has a lot of natural light.

Ceiling fans (1 in one of the living rooms and another one in one of the bedrooms).

Gas water heater. Gas cooker. Electric oven. New fridge.

Storage areas.

Laundry area.

New wooden doors and windows

Julliet balconies.

Areas with hydraulic floors from the 19th century.

Two independent entrances.

Tourist licence.

Don't miss this opportunity to live in such an exclusive property in this typical village on the
coast of Granada.

For more information please do not hesitate to contact our team at Pargo villas: +34 958610961 or
info@pargovillas.com
Details
Type: Town House
For sale/for rent: For rent
Province: Granada
Town: Salobreña
Bedrooms: 3
Bathrooms: 2
Constructed area: 245 m²
Type of property: Re-sale
Energy certification (consumo):
Energy certification (emisiones):
Extras
Interior: Yes
Kitchen: American
Storage room: Yes
Fireplace: Yes
Laundry: Yes
Description
Fabulous Andalusian house for long term rental!

This property is located in Salobrena, a picturesque village with a spectacular location, as it is on
the coast of Granada, with beaches and at the same time close to its famous ski resort of Sierra Nevada.

The house is situated in the upper part of the Old Town of Salobrena, so you will enjoy amazing views
and be able to get lost the romantic streets of this emblematic old town, with its Andalusian character,
and its Moorish influence.

The property has 3 floors. It is distributed as follows:

We access the property through a beautiful blue wooden door restored by hand by a local carpenter.
Entering the house we find a small entrance hall. Next we find a beautiful open kitchen decorated with
emerald green tiles. On the left hand side there is a spacious and luminous living room. At the back of
the house there is a newly renovated bathroom and a second living room with a fireplace. This second
living room could be used as a guest room. This living room also has an independent access from the
street.

To go up to the first floor we access by an original staircase from the 19th century. On the left hand
side there are two bedrooms. One is a single bedroom and the other one is a double bedroom, very
spacious and with a manorial style. Both bedrooms have julliet balconies and their windows have been
restored by hand by a local carpenter. Next we have an area currently used as an office, the second
bathroom with a bathtub, a small patio and another double bedroom, all with lots of detail and light.

On the third floor is the terrace with a chill-out area and a pergola, with views of the Sierra Neva,
the Salobrena crops and the mediterrean sea.

Therefore the house has:
- 1 open kitchen
- 2 lounges (one with a fireplace which could potentially be another bedroom)
- 3 bedrooms
- 1 terrace
- 2 bathrooms (one with bath and one with shower)
- 1 patio

Other qualities:

Sea and mountain views.

The whole house has a lot of natural light.

Ceiling fans (1 in one of the living rooms and another one in one of the bedrooms).

Gas water heater. Gas cooker. Electric oven. New fridge.

Storage areas.

Laundry area.

New wooden doors and windows

Julliet balconies.

Areas with hydraulic floors from the 19th century.

Two independent entrances.

Tourist licence.

Don't miss this opportunity to live in such an exclusive property in this typical village on the
coast of Granada.

For more information please do not hesitate to contact our team at Pargo villas: +34 958610961 or
info@pargovillas.com
Info Request
For more information about this property, complete the details below.
You can also call:
+34 958610961
more
Energy certification
Energy certification:
TA
TA

Pargo, SL
Urb. Costa Aguilera, Ctra N-340, Km 323,7
18680 Salobreña

(Granada)