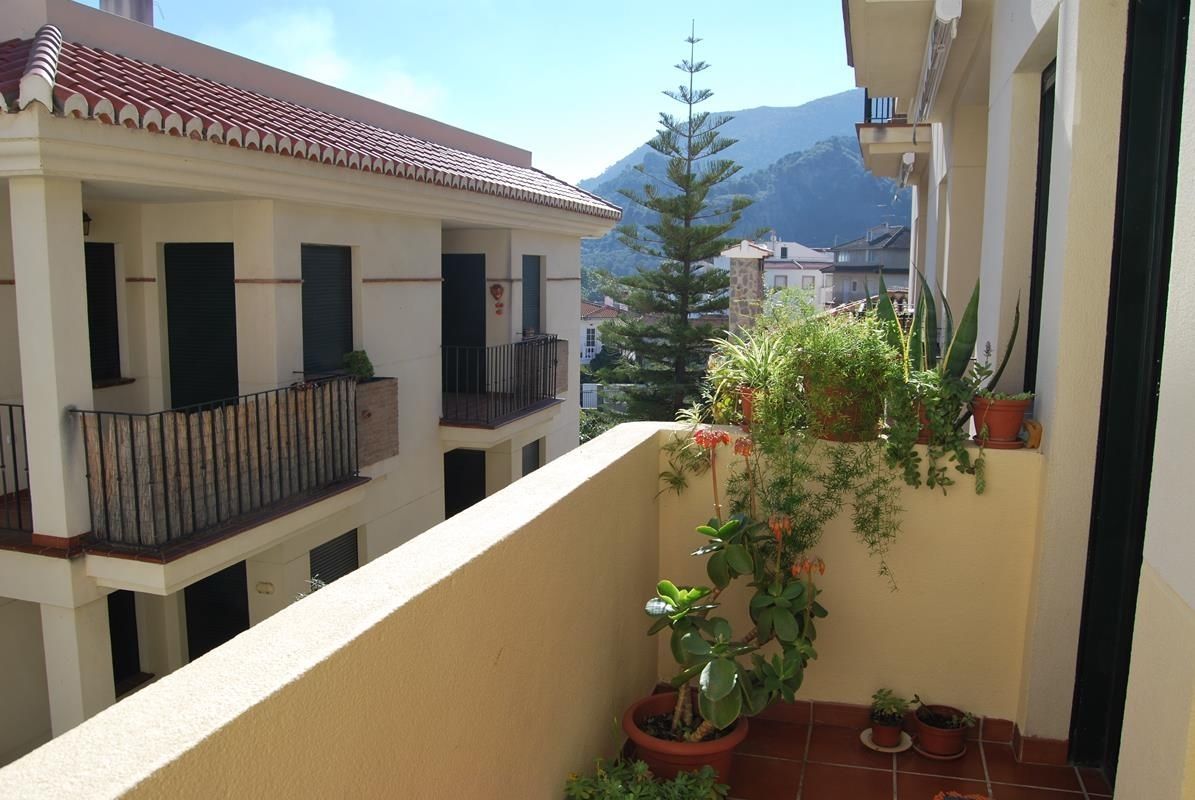 Duplex in Guajares, Los, for sale
Reference number: 1862
Constructed area 123 m²
Bedrooms 2
Bathrooms 1
DUPLEX FOR SALE IN LOS GÜAJARES
In the amazing and beautiful Granada municipality of Los Guájares, formed by three villages Guájar
Faragüit, Guájar Fondón and Guájar Alto, we find this property, specifically in Guájar Alto.

This duplex apartment has two double bedrooms, bathroom, kitchen, a living room with a wood stove and
two terraces overlooking the village and the spectacular mountains that surround it.

The fauna and waterfalls of the Toba River that surround Los Guajares are the main protagonists of this
beautiful landscape. Offering us incredible areas for hiking. Another jewel of the Guajares is El
Castillejo, an Arab fortress, which is located in the valley. Nor can we forget the incredible
gastronomy such as its homemade cold meats, fennel stews, sun-dried tomato salads, its 'Migas'
and its famous choto in sauce, in a sauce made of their non-alcoholic wine, which we can try in the two
bars that are in the town. They also organize varipus parties during the year of enjoyment for all and
in summer you can bathe in its beautiful natural pool of clear water.

10 minutes by car, in Guajar Faragüit, we find a school, a bank, bars and some food shops.

25 minutes away we find the coastal towns of Salobreña and Motril where we find even more services,
large supermarkets, various banks, restaurants, schools etc. Also 25 minutes away we have good access to
the A-44 motorway to Granada (45 minutes) and the A-7 motorway to Malaga (60 minutes), where we find two
international airports.

Also 1 hour and 30 minutes from Guajar we find the famous ski resort of Sierra Nevada. Therefore Guajar
is located in a central location between the sea and the mountains.

For more information or to make an appointment do not hesitate to contact the Pargo villas team
inmobiliaria@pargovillas.com or 43 958610961
Details
Type: Duplex
For sale/for rent: For sale
Province: Granada
Town: Guajares, Los
Bedrooms: 2
Bathrooms: 1
Constructed area: 123 m²
Type of property: Re-sale
Energy certification (consumo):
Energy certification (emisiones):
Extras
Floor: 2º
Kitchen: Independent
DUPLEX FOR SALE IN LOS GÜAJARES
In the amazing and beautiful Granada municipality of Los Guájares, formed by three villages Guájar
Faragüit, Guájar Fondón and Guájar Alto, we find this property, specifically in Guájar Alto.

This duplex apartment has two double bedrooms, bathroom, kitchen, a living room with a wood stove and
two terraces overlooking the village and the spectacular mountains that surround it.

The fauna and waterfalls of the Toba River that surround Los Guajares are the main protagonists of this
beautiful landscape. Offering us incredible areas for hiking. Another jewel of the Guajares is El
Castillejo, an Arab fortress, which is located in the valley. Nor can we forget the incredible
gastronomy such as its homemade cold meats, fennel stews, sun-dried tomato salads, its 'Migas'
and its famous choto in sauce, in a sauce made of their non-alcoholic wine, which we can try in the two
bars that are in the town. They also organize varipus parties during the year of enjoyment for all and
in summer you can bathe in its beautiful natural pool of clear water.

10 minutes by car, in Guajar Faragüit, we find a school, a bank, bars and some food shops.

25 minutes away we find the coastal towns of Salobreña and Motril where we find even more services,
large supermarkets, various banks, restaurants, schools etc. Also 25 minutes away we have good access to
the A-44 motorway to Granada (45 minutes) and the A-7 motorway to Malaga (60 minutes), where we find two
international airports.

Also 1 hour and 30 minutes from Guajar we find the famous ski resort of Sierra Nevada. Therefore Guajar
is located in a central location between the sea and the mountains.

For more information or to make an appointment do not hesitate to contact the Pargo villas team
inmobiliaria@pargovillas.com or 43 958610961
Info Request
For more information about this property, complete the details below.
You can also call:
+34 958610961
more
Energy certification
Energy certification:
TA
TA

Pargo, SL
Urb. Costa Aguilera, Ctra N-340, Km 323,7
18680 Salobreña

(Granada)